---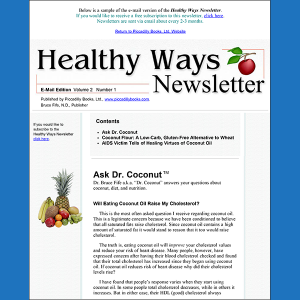 To view a sample of the Healthy Ways Newsletter click here.
Healthy Ways Newsletter
Welcome to the cutting edge source of information on coconut, fats and oils, diet, nutrition, and other related topics.
All Piccadilly Books customers who have purchased one of my books automatically receive a complimentary email subscription to my Healthy Ways Newsletter.
As a subscriber, you will receive a copy of the Healthy Ways Newsletter every few weeks. There is no exact publication schedule. The newsletters come out whenever I have the time to put them together. You may get two in one month or you may not receive one for three months. Since I do not want you to miss out on some of the great information reported previously, I will also include a few older issues that you may not have received.
Sincerely,
Dr. Bruce Fife
Director, Coconut Research Center
To sign up for the free Healthy Ways Newsletter

click here.
---
---