ReboundAir Stabilizing Balance Bar
$83.00
Mini-Trampoline Rebounder Stabilizing Bar
$78.95
Shipping $11.00
Products can not be shipped to PO Boxes – Physical address only please.
Please call 719-550-9887 to place your order.
Description
What We Do Best: The ReboundAIR™ Mission
Endorsed by rebounding pioneer and innovator Al Carter, the American Institute of Reboundology, Inc. (AIR, Inc.) is the leading manufacturer of high-quality rebounder mini trampolines. Their mission is to increase public awareness of the many benefits of Rebounder Aerobics and Resistive Strength Rebounding while explaining the superior engineering of the ReboundAIR™. Learn more about Al Carter, the founder and world-renowned authority of the World Rebound Exercise Industry and ReboundAIR™ Inc: "28 Years of Innovation".
Why in the world should we rebound in the first place? The following are the best reasons we can think of. These have withstood the test of the past 29 years. Which will YOU most benefit from?
The study of the human body is fairly interesting. The moment it becomes no less than amazing is when we understand what happens as the body is placed under the demands of movement and resistance we call exercise. Rebounding is an effective exercise that reduces your body fat; firms your arms, legs, thighs, abdomen, and hips; increases your agility; strengthens your muscles overall; provides an aerobic effect for your cardiopulmonary systems; rejuvenates your body when it's tired, and generally puts you in a state of mental and physical wellness. In fact, there are at least 33 fascinating ways the body responds to regular rebounding, detailed below: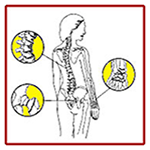 Rebounding provides an increased G-force or gravitational load, which strengthens the musculoskeletal systems.  (more on this response, see the NASA study)
Rebounding protects the joints from the chronic fatigue and impact delivered by exercising on hard surfaces.
Rebounding helps manage body composition and improves muscle-to-fat ratio.
Rebounding aids lymphatic circulation by stimulating the millions of one-way valves in the lymphatic system.
Rebounding circulates more oxygen to the tissues.
Rebounding establishes a better equilibrium between the oxygen required by the tissues and the oxygen made available.
Rebounding increases capacity for respiration.
Rebounding tends to reduce the height to which the arterial pressures rise during exertion.
Rebounding lessens the time during which blood pressure remains abnormal after severe activity.
Rebounding assists in the rehabilitation of a heart problem.
Rebounding increases the functional activity of the red bone marrow in the production of red blood cells.
Rebounding improves resting metabolic rate so that more calories are burned for hours after exercise.
Rebounding causes muscles to perform work in moving fluids through the body to lighten the heart's load.
Rebounding decreases the volume of blood pooling in the veins of the cardiovascular system preventing chronic edema.
Rebounding encourages collateral circulation by increasing the capillary count in the muscles and decreasing the distance between the capillaries and the target cells.
Rebounding strengthens the heart and other muscles in the body so that they work more efficiently.
Rebounding allows the resting heart to beat less often.
Rebounding lowers circulating cholesterol and triglyceride levels.
Rebounding lowers low-density lipoprotein (bad) in the blood and increases high-density lipoprotein (good) holding off the incidence of coronary artery disease.
Rebounding promotes tissue repair.
Rebounding for longer than 20 minutes at a moderate intensity increases the mitochondria count within the muscle cells, essential for endurance.
Rebounding adds to the alkaline reserve of the body, which may be of significance in an emergency requiring prolonged effort.
Rebounding improves coordination between the proprioceptors in the joints, the transmission of nerve impulses to and from the brain, transmission of nerve impulses and responsiveness of the muscle fibers.
Rebounding improves the brain's responsiveness to the vestibular apparatus within the inner ear, thus improving balance.
Rebounding offers relief from neck and back pains, headaches, and other pain caused by lack of exercise.
Rebounding enhances digestion and elimination processes.
Rebounding allows for deeper and easier relaxation and sleep.
Rebounding results in better mental performance, with keener learning processes.
Rebounding curtails fatigue and menstrual discomfort for women.
Rebounding minimizes the number of colds, allergies, digestive disturbances, and abdominal problems.
Rebounding tends to slow down atrophy in the aging process.
Rebounding is an effective modality by which the user gains a sense of control and an improved self-image.
Rebounding is enjoyable!  People will engage in exercise longer IF they enjoy exercising!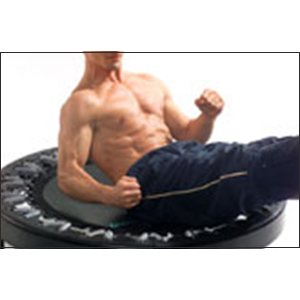 People who rebound find they are a50e to work longer, sleep better, and feel less tense and nervous. The effect is not just psychological, because the action of bouncing up and down against gravity effectively stimulates the lymphatic system without trauma to the musculoskeletal system. This unique discovery is central to the reasons Rebounding has become one of the most beneficial forms of exercise ever developed.
---
17 Testimonials and Progress Reports
" I Have been using the cheap WAL-MART trampoline, not knowing that so much research and improved rebounders were available. I recently house-sat for a friend for a month and used her ReboundAIR. The difference sold me! "
-Sandra of Wendell, MA
"…I'm greatly enjoying my reboundair and the $400.00 I saved by not buying a treadmill. I'm losing fat by the handfuls, feeling terrific and having a blast with my rebounder. Of course I'm following a diet too.
…The thing that first struck me when I pulled it out of the box is the quality of it. The workmanship is top notch. I would like to add that a feature I didn't notice your website mention is the fact that no assembly is required. Just unfold and you're ready to jump to it.
Again, thank you for your high quality product and the free gifts."
-Margaret of North Augusta, SC
"It's wonderful!!! I LOVE it!!! I'm so pleased to have this great way of exercising right in my own home, and I'm REALLY glad I have the easy-to-use half-fold. Thank you SO MUCH for your patience and help with the whole process of getting started; you have my sincere gratitude both for your helpfulness and for the rebounder itself. I know I'll get a lot of use out of it, and my health, spirits, and fitness levels will all benefit. THANKS again for service and kindness above and beyond the call of duty".
-Rachel
"I recently purchased one of your quarter-folding mini trampolines and I've been wanting to thank you ever since. My only excuse for not doing so before is that I spend all my spare time on it.
…You should have seen the grin on my face. And the way my body felt!
…It's literally the best purchase I've made for myself in the past 15 years, definitely the one I feel the happiest about.
…I do physical therapy and teach body and movement awareness so I'm aware of what damages can result from poor equipment, and you should have seen some of the contraptions I've been offered over time.
…it is the ultimate tool for taking responsibility for our own health…"
-Jean-Pierre, Montreal, Canada
"I can't thank you enough for this exciting, fun way to exercise! It has turned something that used to be drudgery into something I look forward to every day. Through combination of diet and exercise, I have lost 23 pounds and two clothing sizes."
-Gail
"A250.00have 3 other makes. I want the best!!!"
-John, MD
"I started rebounding 28 days ago. My immune system was so shot and I was tired of being tired and sick. I started with the gentle "health bounce" for 15 min in the morning and 15 min in the evening. I also began a sensible diet to help cut down food allergies etc. My main objective is to get my lymphatic system moving and find some type of exercise I could do without re-injuring my knee (I had the ACL replaced back in 93 and I tore the cartilage off the bone, so no more running or much of anything without severe pain and bleeding in the joint!) so, needless to say, I have been desperate to find an exercise I could do that wouldn't irritate the bones in my knee.
I began to lose weight immediately! Muscle tone, improved breathing, no more ear aches or sore throats and my allergies are clearing up!!!!! WOW.
I'm up to 38 min in the am and I do about 15 at night. I decided to look up rebounding on the web to find out more about it-need I say more? I found the ReboundAIR™ and ordered the book and a video for myself and one for my children.
I've been using the "Keep on Rebounding" video for about 2 weeks. I have lost a total of 15 lbs. since I started. I'm toned, slim, my skin is clear and glowing. I still haven't gotten all the moves down in the video, but my knee has strengthened enough to keep my balance and I can at least keep going to the end. My mom started about a week ago and my HUSBAND started about 3 days ago.
I haven't had any pain, I love the results and I'm thinking about getting certified in Reboundology and putting an ad in my children's school handout to teach anyone else who wants to learn. It's amazing. I am very excited about this and I love my Quarter Fold ReboundAIR™, it's so much nicer than the one I picked up at a 2nd hand sports place. Even less impact on my knee and joints. I could add a list of things that have improved, but I figure this is long enough.
Thanks for a great product and for a great video!"
– Stephanie
"I've been rebounding for some time now. My initial motivation was lymphatic health. I have found that I can rebound every day (week days) without any signs of over-training. I have tried running on that schedule but developed ankle and knee pain, so I feel rebounding is better for that style of training. I use a 15 minute rebound session to warm up for yoga and weight lifting."
-Josh

Shape Magazine: "Rebounding can provide a scientifically sound workout for cardiovascular improvement and weight management."
-Len, Ph.D.
"That roll of stretched skin that appears on a woman's tummy after having a baby, (I have had three) can disappear, and with commitment to your rebounder, DOES. It combats depression, stops menstrual cramps, increases circulation in your face and thus decreases wrinkling and gives you the appearance of youth."
-Lynda
"…she [nurse practitioner] couldn't believe my age. She said, 'you have the bones of a 17 year old!' The reading was done with a Sahara Clinical Bone Sonometer and measured a T-score of 2.8. Pretty amazing for someone my age. I'm sure that this test was a result of my exercise on a rebounder, my eating habits and good mental health. Thank you Al for all your research and dedication to this form of exercise. It works wonders if you work at it."
– Sue
"My name is Meg knoll and I live in Wisconsin. I'm writing to thank you so much for getting rebounding out where people can see it and realize how great it is! I was someone that was told by my doctor that I needed to stop compression exercise, because of my back. I had been a jogger and an aerobic exercise person for many years. I didn't know what to do! Walking just didn't do it for me! …All I can say is THANK YOU! I absolutely love rebounding and it is just marvelous exercise! I've had no problems with my messed up back and neck – if anything, rebounding has strengthened my back. I just wanted you to know what it's done for me and that your website is an excellent source of information. I've talked up rebounding with anyone that will listen and sent many people to your website."
– Meg
"What is my primary objective? Weight loss, tone, and a change in my exercise routine. It's a fun way to make sure I get some aerobic exercise every day. …I also like the idea of being able to get a good aerobic workout indoors without going to the gym. I have a treadmill but it's so boring!"
– Wendy
"Right now I rebound three days a week, will work up to five or six. 20 minutes at a time, again, I will work my way up to a longer period of time. My objective is to lose weight and tone. I used my rebounder about 13 years ago to lose 40 pounds, therefore, I know it works (along with dieting). I have a free gym membership through my work, but I choose to use this method of exercise instead because I can use it in the privacy of my own home and it's fun."
-Heather
"I am rebounding five days a week, but only for two ten minute periods a day. I'm still new at this. My objectives are tone and lymphatic system stimulation at age 49. Rebounding is enjoyable and the time passes quickly. I feel strengthening and toning in the backs of my legs, around my knees and across my back. I need to start increasing the duration this weekend."
-Marilyn
"My name is Ray. I'm a 62 year old gentleman that was diagnosed as having Muscular Dystrophy in 1976 in Pittsburgh, Pa. In 1981 I retired in Florida and weighed about 225 lbs. In 1983 I bought the book "The Miracles of Rebounding" and my first rebounder. I have kept your book at my bedside for many years and have read it so much that I have had to use tape to keep it bound together.

Over the years my rebounding has gone from 45 minutes a day to nothing. Sometimes when I got really lazy and would not rebound for a long time, my mobility would get so bad that I could hardly walk without looking like I'm going to fall over any minute.

Other times when I was on a streak of consistent daily exercise I would walk so normal that when I would tell people that I had MD they would say they hadn't noticed anything in my walking.
What I'm trying to say is that I have to sincerely say that I believe that rebound exercise has kept me out of a wheelchair for the last 18 years or at least the last 5 years. I have a record of every jump I've ever done on a rebounder kept in annual diaries and I can look back and tell the good years from the bad years according to how much time I spent on the rebounder.
I have to put my rebounder in the hallway and hold onto the door jambs because my balance is not so good but right now I'm back to rebounding almost daily ( I've rebounded 93 out of the last 96 days ). I have atrophy in the front of my ankles so even when I'm doing the strength bounce my toes will not leave the mat but I do the best that I can. Over the last 3 months, I've sometimes rebounded for 30 minutes a day and sometimes for over 50 minutes a day. I've made a promise to myself that I'm going to do at least something every day no matter what.
I now weigh about 185 lbs and would like to lose about 20 lbs in the midsection and have that as my goal over the next year. My main goal through rebounding to make myself a productive person as far as income is concerned so I'm not a burden to my son or my family. I would like to become a member of your organization but will have to wait until I can get the funds together to get one of your units. I came across your website last week and have spent hours looking at everything I could find on rebounding.
It's really nice to see how rebounding may finally get the recognition that it certainly deserves. I hope I can be a part of introducing the best exercise known to man to a truly uneducated public. I wanted to write and thank you for what you introduced back in 1979 because as I said before…….I would be in a wheelchair if I had not read your book and started rebounding.
Thanks a Million ! ! !"
– Ray
"Thank you for our pleasant conversation yesterday. I just wanted to take a moment to reiterate some of the reasons I'm truly enjoying the rebounder your company makes.
As I mentioned, my wife purchased a ReboundAIR™ through Ariel Moss, a personal friend of ours for many years, after her enthusiastic recommendation. When it arrived, I liked the construction of it, and knew it was a serious piece of exercise equipment that was well designed. I read the book my wife also received (The New Miracles of Rebound Exercise) and was quite impressed with the data presented by Mr. Carter. After watching the video ("Keep on Rebounding"), I was hooked. That was 3 months ago; now my wife can't get me off the thing!
As a physician, I'm aware of the problems of degenerative diseases and the new information attempting to help us all achieve healthy aging. Diet, exercise, and nutritional supplementation seem to be an important part of this equation. What I like most about the rebounder is the fact that it's regular use can help maintain muscle mass, bone density, aerobic capacity, balance, cardiovascular fitness, and reduce insulin resistance – all of which become problematic as we age. Additionally, it's easy and pleasurable to use, has no parts to essentially break down, is portable, and most important of all, quiet (I have to exercise very early in the morning before work, and I can use the rebounder easily without waking the whole house.)
It's the first type of exercise that I've been able to consistently every day as part of my overall health routine. Since beginning, I've noticed improved stamina, overall strength, balance, flexibility, decreased stress, and better sleep – all without stress on my joints. I have even knocked several strokes off my golf game!
I have owned a NordicTrack, and a treadmill, and done cycling, swimming, and jogging, and used gym equipment; this far exceeds the benefits I received from those types of exercise. Adding a light weight routine a few days a week while jogging on the rebounder rounds out a perfect regimen for me that only takes me about 25 minutes daily.
I'm truly delighted with the quality and design of the rebounder, and I appreciate all of the research and time your company has put into producing such a quality exercise aid. Thank you.
p.s.- thank you for sending me the tape and book, as my wife plans to take hers with her when she travels."
– Martin

"I just wanted to write to you to tell you how wonderful for and essential to the therapy and daily life of my son with autism spectrum your Rebounder is. Our son is 5'11' at age 15 and about 150 lbs. He is extremely athletic and runs like the wind. This is his extraordinary gift. But ironically, with the autism, he runs out the door and down the street. With the Rebounder he is able to get his exercise without putting his life at the risk of getting hit by a car or being lost. He adores your rebounder and uses it at least an hour a day. He will intermittently get on the rebounder and jump from 3 to 5 minutes. He is very adept at using the Rebounder and would be utterly lost without it.
With many autistic children there is a real problem with what is called "elopement" which means they run off and do not have a real sense of danger. Sometimes their ability to get exercise is compromised severely as a result. Between the Rebounder and the fact that our son considers doing sit ups to be recreation, his is very well built, has a sense of his surroundings that he responds to and he is much more normal in his bearing and demeanor. The Rebounder is an integral and absolutely necessary part of our son's ongoing therapy.
With sincere best regards for the continued success of your Rebounder, I am"
– Kate
Top Ten Reasons People Exercise
Percent of participants of fitness activities age 18 and older
who said the goal was "somewhat to very important".
Females:
Most cited reason for exercise, females:  Weight Control – 87.5%
Feeling good after – 86.6%
Increased energy 86.0%
Muscle tone – 84.3%
Cardiovascular benefits – 81.3%
Keep flexibility 81.3%
Reduce stress – 80.5%
Time for self – 79.3%
Enjoy exercise – 77.9%
Improve self-esteem – 76.2%
Males:
Most cited reason for exercise, males: Muscle tone – 84.7%
Increased energy – 83.0%
Cardiovascular benefits – 81.9%
Weight control – 81.8%
Feeling good after – 81.7%
Reduce stress – 77.1%
Build strength – 76.5%
Enjoy exercise – 76.1%
Keep flexibility – 75.6%
Time for self – 75.3%
Source: Fitness Products Council/IHRSA/American Sports Data, Inc., Reprinted in SGMA's "Tracking the fitness movement" reports.
The American Institute of Reboundology, Inc. is a member of the SGMA (Sporting Goods Manufacturers Association).
Top Ten Reasons People Do Not Exercise!
Number 1 excuse: "No time in my busy schedule!"
No energy / I'm too tired. / Lack of discipline / To hard…there's got to be an easier way.
Discouraging / Not enjoyable / Bad experience with delayed onset muscle soreness (DOMS)
Expensive equipment, clothes, memberships
Distance / Inconvenience
Boredom / Lack of variety
Injury / Health problems / chronic physical discomfort
Embarrassment / Social discomfort
Lack of understanding of the benefits / Low priority
Apathy / Don't care to
Lifetime ALL Component Rebounder Warranty
30-Day Money-Back Guarantee on all ReboundAIR™ models
Because of our confidence in the quality of our product, our rebounders come with an unrivaled lifetime warranty as well as a 30-day money-back guarantee. With thousands of satisfied, impressed customers already, we hope you too will put the ReboundAIR™ to good use for many years to come. We want you to be "our client for life!"
Our promise to you: Our rigorous requirements for material quality and workmanship assure that the ReboundAIR™ is the best in design, performance, and durability. Consequently, each ReboundAIR™ comes with a lifetime warranty as expressed below (commercial uses excluded — click here for club and commercial use warranty):
All-Component Lifetime Warranty: The entire rebounder is covered under our workmanship and material quality plan, included with each rebounder purchase. We insist that the frame, spring bolts, legs, leg studs, hinges, mat, springs and spring cover be free from defects in workmanship and materials for as long as you own your ReboundAIR™. This warranty is effective for units sold after September 25th, 2002.
Free Wear and Tear Replacements: Regular, high-intensity use of your rebounder may result in the need for eventual replacement of such components as springs or the mat. This "reasonable wear" is not considered a defect in workmanship or materials, but for such cases, we are happy to replace up to a full set of springs (36) and one (1) mat for FREE during the long life of your rebounder.
This warranty is valid as long as the user's weight is not in excess of 300 pounds (400 pounds for the Quarter-Fold model, The Ultimate Rebound™) and providing the unit is used in its intended manner. Also, this warranty is valid for the original purchaser only. AIR, Inc. will not recognize any and all other guarantees or warranties, expressed, implied, written or otherwise stated.
The purchaser will be responsible for all shipping and handling of any and all warranty work except that which is deemed by AIR, Inc. to be defective material or workmanship. AIR, Inc. reserves the right to either repair or replace the exercise device.
Although every attempt is made to embody the highest degree of protection in all equipment, we cannot guarantee freedom from injury. The user assumes all risk of injury resulting from use. All merchandise is sold based upon this condition.
Warranty claims require prepayment of shipping charges by purchaser. On all shipments outside the U.S. the purchaser and/or recipient is responsible for any and all taxes, duties, customs, fees, etc.
30-day money-back guarantee: If you are not completely satisfied, you may return your ReboundAIR™ within the first thirty days. All returns will be charged a 15% restocking fee. There are no returns after thirty days.
We hope you enjoy your new equipment as much as we do. If you are pleased with your new ReboundAIR™, share your discovery with your family and friends. If you are ever displeased with our products or services, please inform us and we will work to remedy the concern immediately.
"Rebound to better health!" -Al Carter and the Research and Development team, AIR, Inc.