---
---
---
Healthy Ways Newsletter
by Dr. Bruce Fife
To see a sample of this free e-mail newsletter click here
To sign-up to receive this free newsletter click here

Keto Cycling
How to Optimize the Ketogenic Diet and Avoid Common Mistakes
By Bruce Fife, ND
---
176 pages  |  $16.95
Available after June 24, 2019
Keto cycling is the most powerful, most effective, and most efficient tool for overcoming chronic disease and restoring health. Keto cycling is a method of going in and out of ketosis—a metabolic state in which the body runs on fat. It is absolutely the easiest and most efficient method for losing excess body fat and achieving your optimal weight. Low-fat, calorie-restricted diets are gruelingly difficult because you feel continually hungry and deprived; the keto approach is comparatively easy. The food is delicious and your hunger is depressed, so you can eat to your satisfaction and still lose the weight without the pain.
All of the common health markers that doctors measure when evaluating a patient's health, such as blood pressure, blood sugar, triglycerides, HDL, and systemic inflammation, are improved when a person goes keto. It is like hitting the reset button on your computer—all of the garbage is deleted and you are returned to the original properly working starting position before the errors began to creep in. Health problems are wiped away and you get a fresh start. read more
Fat Heals, Sugar Kills
The Cause of and Cure for Cardiovascular Disease, Diabetes, Obesity, and Other Metabolic Disorders
By Bruce Fife, ND
---
224 pages | $16.95
For decades we've been avoiding fat like the plague, eating low-fat this, nonfat that, choosing egg whites over yolks, and trimming every morsel of fat from our meat in order to comply with the generally accepted recommendation to reduce our fat intake.
As a whole, we have succeeded in reducing our total fat intake and replacing it with more so-called healthy carbohydrates—mostly in the form of refined grains and sugar. What has been the consequence? Obesity is at an all-time high. Diabetes and metabolic disorders have increased to epidemic proportions. Heart disease is still our number one killer. We have dutifully followed the advice of the "experts" and as a result, are sicker now more than ever before.
What went wrong? You can give thanks to the sugar industry. Through clever marketing, misdirection, flawed science, and powerful lobbying, the sugar industry has succeeded in diverting attention away from themselves and putting the blame for our ill health on fat, particularly saturated fat. We fell for it hook, line, and sinker. read more
Ketone Therapy
The Ketogenic Cleanse and Anti-Aging Diet
By Bruce Fife, ND
304 Pages  |  $16.95
The ketogenic diet is one that is very low in carbohydrate, high in fat, with moderate protein. This diet shifts the body into a natural, healthy metabolic state known as nutritional ketosis.
In ketosis the body uses fat as its primary source of energy instead of glucose. Some of this fat is converted into an alternative form of fuel called ketones. Ketones are high-potency fuel that boost energy and cellular efficiency and activates special enzymes that regulate cell survival, repair, and growth. When a person is in nutritional ketosis, blood levels of ketones are elevated to therapeutic levels. In response, high blood pressure drops, cholesterol levels improve, inflammation is reduced, blood sugar levels normalize, and overall health improves.
Low-fat diets have been heavily promoted for the past several decades as the answer to obesity and chronic disease. However, we are fatter and sicker now more than ever before. Obviously, the low-fat approach has not worked. Our bodies actually need fat for optimal health and function more efficiently using fat for fuel.
In this book, you will discover how people are successfully using the ketogenic diet to prevent and treat chronic and degenerative disease. Ketone therapy is backed by decades of medical and clinical research, and has been proven to be both safe and effective for the treatment of a variety of health issues, including the following: read more
The Stevia Deception
The Hidden Dangers of Low-Calorie Sweeteners
By Bruce Fife, ND
176 Pages  |  $15.95
Through the power of persuasive advertising and clever marketing, we've been sold on the idea that stevia is a natural herbal sweetener that is not only harmless but even health-promoting. As such, it is promoted as a better choice over sugar or other low-calorie sweeteners. Stevia has rapidly become a multi million-dollar industry heavily promoted by Cargill, Coca-Cola, PepsiCo, and other multinational corporations who are taking full advantage of its healthy image to sell their products.
Despite all of the marketing hype, stevia is not the innocent little herb it is made out to be—and it is not harmless. The stevia sweetener you purchase at the store is a highly refined, purified chemical that is little different from any other artificial sweetener, with many of the same drawbacks and dangers. To say that stevia is harmless because it is derived from an herb is like saying sugar and cocaine are harmless because they too are derived from herbs.
The author's observation of troubling adverse reactions associated with stevia led him on an investigation that uncovered disturbing facts hidden from the public, including studies that contradict the sweetener's safety and assumed benefits.
In this book, you will learn why you should never use stevia if you want to lose excess weight or control diabetes. You will also learn why all low-calorie sweeteners are potentially dangerous, and what options you have available. The information in this book comes directly from published studies, historical facts, and the author's personal experiences.
Dr. Fife's Keto Cookery
Nutritious and Delicious Ketogenic Recipes for Healthy Living
By Bruce Fife, ND
336 Pages  |  $18.95
A ketogenic diet is one that is very low in carbohydrate and high in fat, with moderate protein. Such a diet shifts the body into an ultra-efficient metabolic state in which fat is utilized as the primary source of fuel in place of glucose (sugar).
This metabolic state, known as nutritional ketosis, has a pronounced therapeutic effect on the body. The diet has proven safe and effective in helping people lose excess weight, improve mental function, balance blood sugar and pressure, improve cholesterol levels, and much more.
Described as the ultimate ketogenic cookbook, Dr. Bruce Fife has compiled into one volume his favorite ketogenic recipes, nearly 450 in all! It includes 70 vegetable recipes, 47 salads and 22 dressings, 60 egg recipes, 50 delicious high-fat sauces for meats and vegetables, as well as a variety of mouthwatering wraps, soups, and casseroles, with a creative array of meat, fish, and poultry dishes. With this resource, you will always have plenty of options to choose from for your daily needs. read more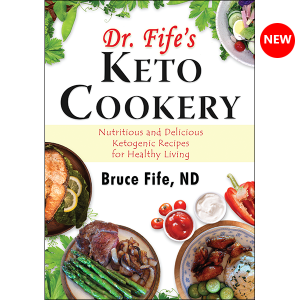 Stop Vision Loss Now!
Prevent and Heal Cataracts, Glaucoma, Macular Degeneration, and Other Common Eye Disorders
By Bruce Fife, ND
How to Prevent and Reverse Degenerative Eye Disorders
256 Pages  |  $16.95
Losing your eyesight is a frightening thought, yet every five seconds, someone in the world goes blind. Most visual impairment is caused by age-related disease, such as cataracts, glaucoma, macular degeneration, and diabetic retinopathy—debilitating conditions for which modern medicine has no cure.
Most chronic, progressive eye disorders are considered incurable, but this situation may not be as hopeless as it seems. There is a successful treatment, one that does not involve surgery, drugs, or invasive medical procedures. The solution is a proper diet. The key to this diet is coconut, specifically coconut oil. The author used this method to cure his own glaucoma, something standard medical therapy is unable to do.   read more
---
The Coconut Ketogenic Diet
Supercharge Your Metabolism, Revitalize Thyroid Function, and Lose Excess Weight
By Bruce Fife, ND
320 Pages  |  $16.95
You can enjoy eating rich, full-fat foods and lose weight without counting calories or suffering from hunger. The secret is a high-fat, ketogenic diet. Our bodies need fat. It's necessary for optimal health. It's also necessary in order to lose weight safely and naturally.  Low-fat diets have been heavily promoted for the past three decades, and as a result we are fatter now than ever before. Obviously there is something wrong…   read more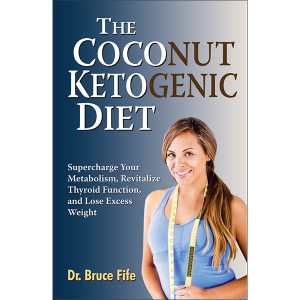 ---
---
To view the description of the Oil Pulling Therapy book click here
Rebound Air Rebound Trampolines click here